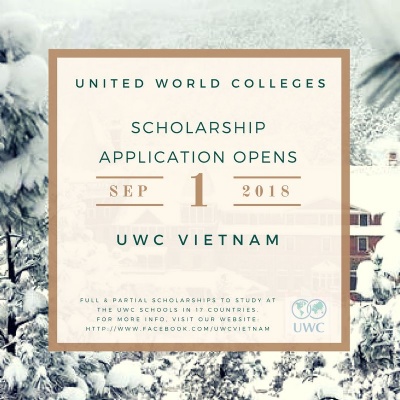 PRESS RELEASE: UWC SCHOLARSHIP PROGRAM VIETNAM 2019 ENTRY
Published 31/08/18
The United World Colleges National Committee in Vietnam (UWC Vietnam) invites high school students to apply for the 2019 Entry to the United World Colleges (UWC) Scholarship Program. The deadline for submitting applications by emails is 23:55, Monday, October 1, 2018.
For the 2019 entry, UWC Vietnam continues to use the online application registration system with an earlier timeline. UWC Vietnam will select applicants based on their merits and nominate selected students to UWCs based on their financial needs. Students from disadvantaged backgrounds are encouraged to apply.
This year we have 14 offers from the following schools: UWC South East Asia, UWC Pearson College, UWC Waterford Kamhlaba, UWC USA, Li Po Chun UWC, Mahindra College UWC, UWC Costa Rica, UWC Maastricht, UWC Dilijan, UWC Changshu, and UWC Thailand. These offers are up to 100% of the costs of tuition and board.
Read More